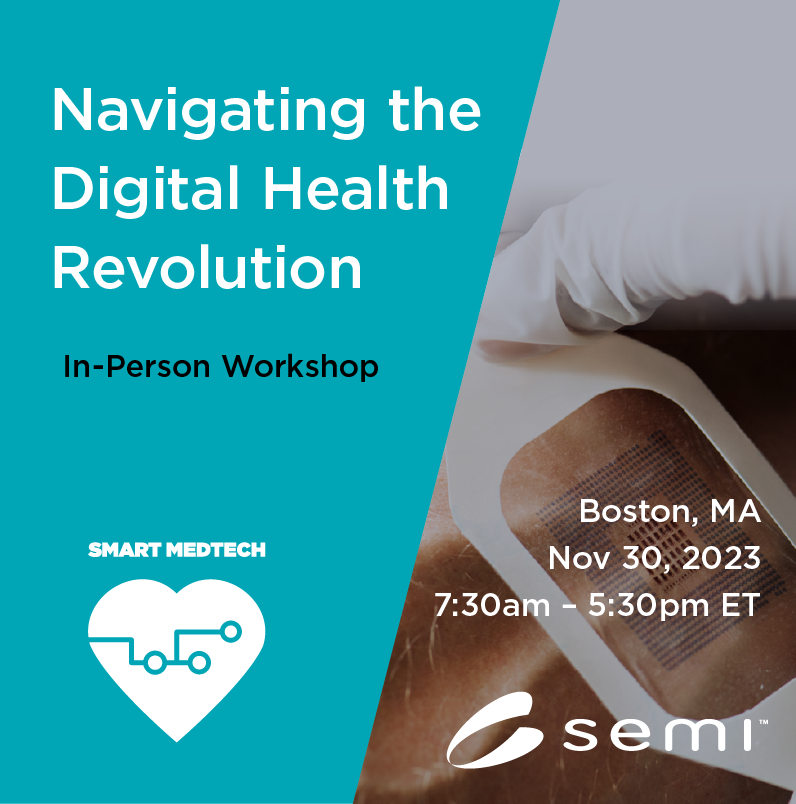 Smart MedTech Workshop November 2023
As we witness a paradigm shift in the Healthcare Revolution from a provider-centric to a personalized care model, it's clear that the crux of this transformation lies in microelectronics and associated technologies. The "Navigating the Digital Health Revolution" workshop acts as a conduit between engineering and life sciences, emphasizing the confluence of Medicine and Technology in reshaping digital healthcare.
This day-long workshop offers expert-driven breakout sessions, presentations from sector leaders, and indispensable networking prospects. Participants will engage in discussions on critical industry topics, priming them with the knowledge and perspectives to innovate in an ever-changing healthcare landscape. Tailored for companies in the electronics supply chain and product developers in the field of medical technology.
For more information about the workshop, please visit: MedTech Workshop - Navigating the Digital Health Revolution | SEMI
VENUE
EMD Serono Research Center 
45 A Middlesex Turnpike 
Billerica, MA 01821-3936
CANCELLATION POLICY: Cancellations received on or before October 30, 2023, are fully refunded with a $50 processing fee.  Refunds will not be issued for cancellations (including no-shows) made after October 30, 2023, and only substitutions are accepted with a written note from the registered attendee.  
EVENT CONTACT:
For questions, please contact Michelle Fabiano at mfabiano@semi.org