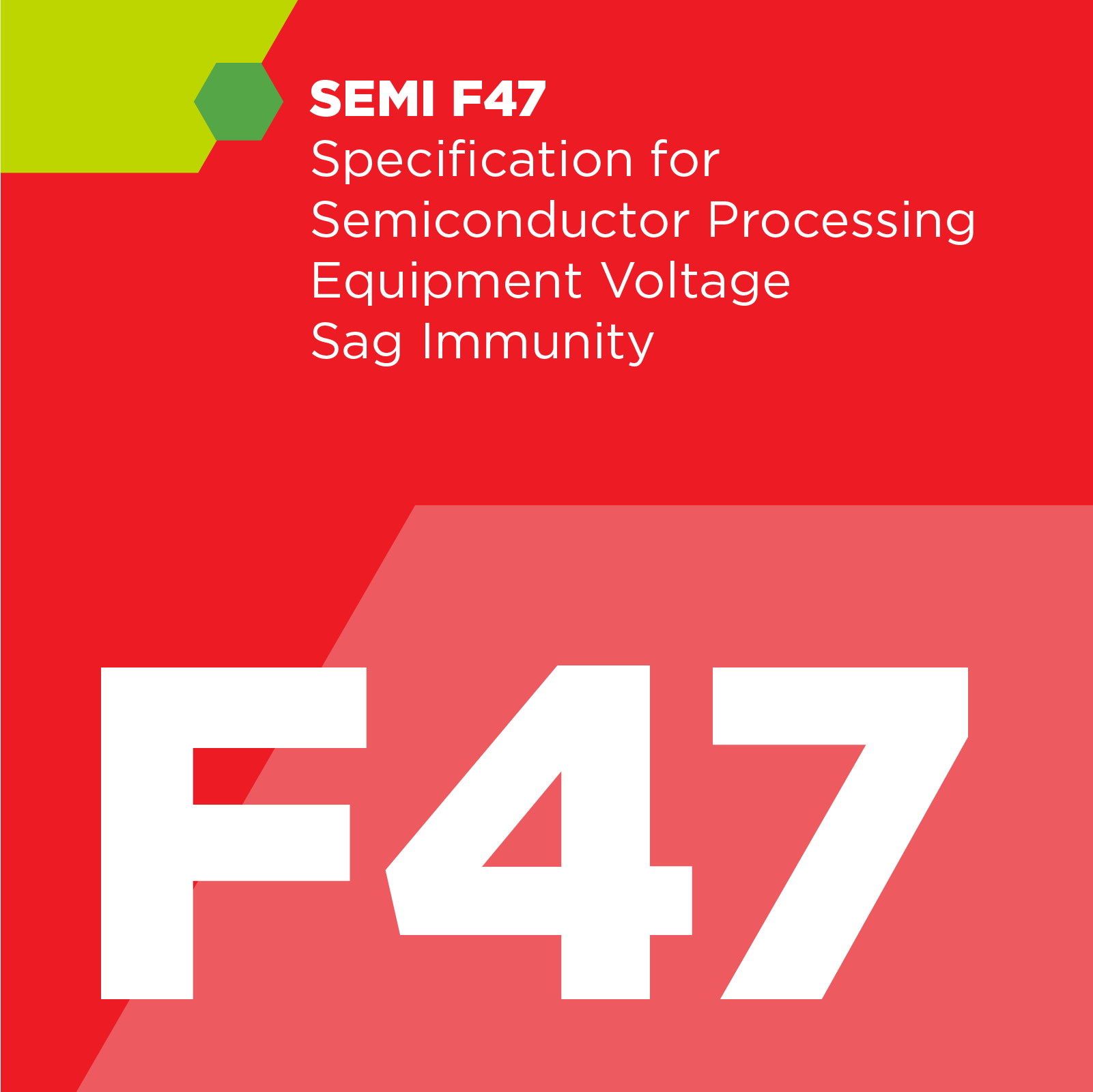 SEMI F47 - Specification for Semiconductor Processing Equipment Voltage Sag Immunity -
Abstract
Semiconductor factories require high levels of power quality due to the sensitivity of equipment and process controls. Semiconductor processing equipment is especially vulnerable to voltage sags. This Specification defines the voltage sag immunity required for semiconductor processing, metrology, and automated test equipment. This Specification strikes a balance between voltage sag immunity and increased equipment cost.
This Specification sets minimum voltage sag immunity requirements for equipment used in the semiconductor industry. Immunity is specified in terms of voltage sag depth (in percent of nominal voltage remaining during the sag) and voltage sag duration (in cycles or seconds). This Specification also sets procurement requirements, test methods, pass/fail criteria, and test report requirements.
The primary focus of this Specification is semiconductor processing equipment including but not limited to the following types:
·    Etch equipment (Dry & Wet)
·    Film deposition equipment (CVD & PVD)
·    Thermal equipment
·    Surface prep and clean equipment
·    Photolithography equipment (Scanner, Stepper & Tracks)
·    Ion implant equipment
·    Metrology equipment
·    Automated test equipment
·    Chemical mechanical polishing/planarization equipment
The secondary focus of this Specification is subsystems and components that are used in the construction of semiconductor processing equipment, including but not limited to:
·    Power supplies
·    Radio frequency generators and matching networks
·    Ultrasonic generators
·    Computers and communication systems
·    Robots and factory interfaces
·    AC contactor coils and AC relay coils
·    Chillers and cryo pumps
·    Pumps and blowers
·    Adjustable speed drives
This Specification applies to semiconductor processing equipment to include the equipment mainframe and all subsystems whose electrical power is directly affected by the operation of the equipment's emergency off (EMO) system.
Grandfather Clause — Equipment, subsystems, and components that were tested or certified under the previous version of this Specification, prior to the publication date of this Specification, do not require re-testing or re-certification until hardware or software design changes that could affect voltage sag immunity are implemented.
Referenced SEMI Standards
(purchase separately)
SEMI E51 — Guide for Typical Facilities Services and Termination Matrix
SEMI S2 — Environmental, Health, and Safety Guideline for Semiconductor Manufacturing Equipment
Interested in purchasing additional SEMI Standards?

Consider SEMIViews, an online portal with access to over 1000 Standards.
Refund Policy: Due to the nature of our products, SEMI has a no refund/no exchange policy. Please make sure that you have reviewed your order prior to finalizing your purchase. All sales are final.