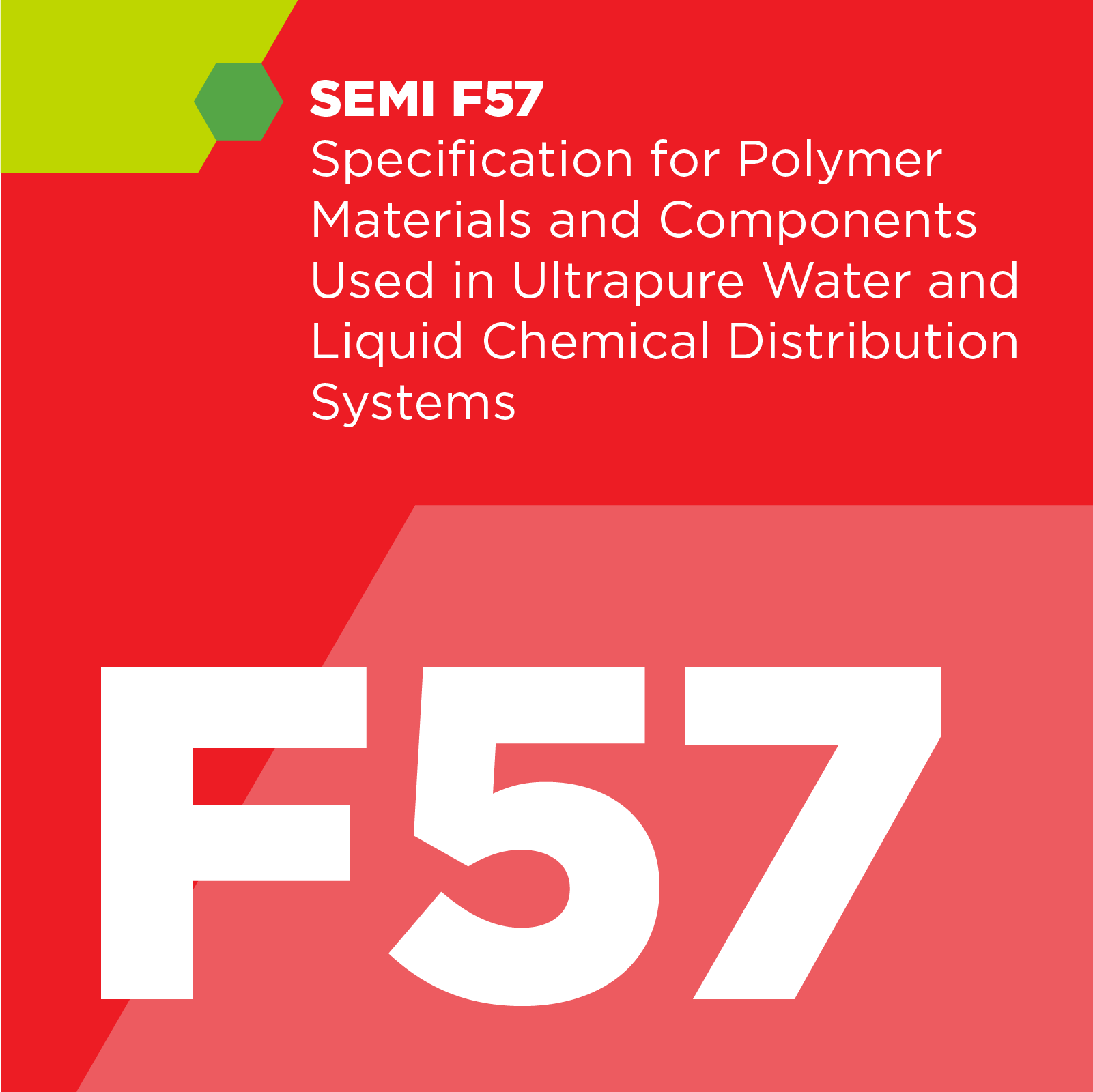 SEMI F57 - Specification for High Purity Polymer Materials and Components Used in Ultrapure Water and Liquid Chemical Distribution Systems -
Abstract

This Standard specifies minimum performance requirements for ultra high purity (UHP) polymer materials and components suitable for conveying ultrapure water (UPW) in UPW distribution systems. Further information regarding UPW systems can be found in SEMI F61, SEMI F63.

It also provides recommendations for the use of polymer materials and components used in UHP liquid chemical distribution systems (LCDS). Such distribution systems covered in this Specification include bulk supply, facility distribution, and process equipment applications.

Although the requirements of this Specification focus on testing materials and components with UPW at elevated temperatures, there could be other applicable chemicals, such as caustics and oxidizers, which users of this Specification might like to consider. However, defining the vast number of testing parameters for each possible liquid chemistry stream is beyond the scope of this Specification. Nevertheless, this Specification intends neither to exclude nor to limit the possibility that suppliers and end-users might test with chemicals other than UPW or with other temperature conditions and, at the same time, set their own internal limits separate from the requirements within this Specification.

This Specification focuses on polymer material and component performance and validation. Operational requirements to ensure polymer materials and components meet the intent of this Specification are provided where appropriate. A summary list follows:
Quantitative Measures of Compliance

Metallic Contribution Limits

Ionic Contribution Limits

Total Organic (Oxidizable) Carbon Contribution Limits

Surface Roughness Limits

Qualitative Measures of Compliance

Mechanical Properties

Physical Properties

Chemical Resistance

Reliability

Traceability Requirements

Packaging Requirements

Certification

This Specification pertains to polymer materials and components consisting of but not limited to the items shown in Table 1 are designed to contain and supply the following, but not limited to, the types of liquid chemicals listed below:
UPW

Acids, bases and oxidizers

Aqueous salt solutions

Solvents

Polymer materials and components that meet the requirements specified in this Standard shall be considered suitable for UPW and LCDS as described in ¶ 1.3. Refer to SEMI C90 for additional requirements for the use of polymers in LCDS.

Referenced SEMI Standards (purchase separately)
SEMI C69 — Test Method for the Determination of Surface Areas of Polymer Pellets
SEMI C90 — Test Method and Specification for Testing Perfluoroalkoxy (PFA) Materials Used in Liquid Chemical Distribution Systems
SEMI E49 — Guide for High Purity and Ultrahigh Purity Piping Performance, Subassemblies, and Final Assemblies
SEMI F40 — Practice for Preparing Liquid Chemical Distribution Components and Neat Polymers for Chemical Testing
SEMI F61 — Guide to Design and Operation of a Semiconductor Ultrapure Water System
SEMI F63 — Guide for Ultrapure Water used in Semiconductor Processing

Revision History
SEMI F57-0622 (technical revision)
SEMI F57-0120 (technical revision)
SEMI F57-0314 (technical revision)
SEMI F57-0312 (technical revision)
SEMI F57-0301 (technical revision)
SEMI F57-1000 (first published)
Interested in purchasing additional SEMI Standards?

Consider SEMIViews, an online portal with access to over 1000 Standards.
Refund Policy: Due to the nature of our products, SEMI has a no refund/no exchange policy. Please make sure that you have reviewed your order prior to finalizing your purchase. All sales are final.