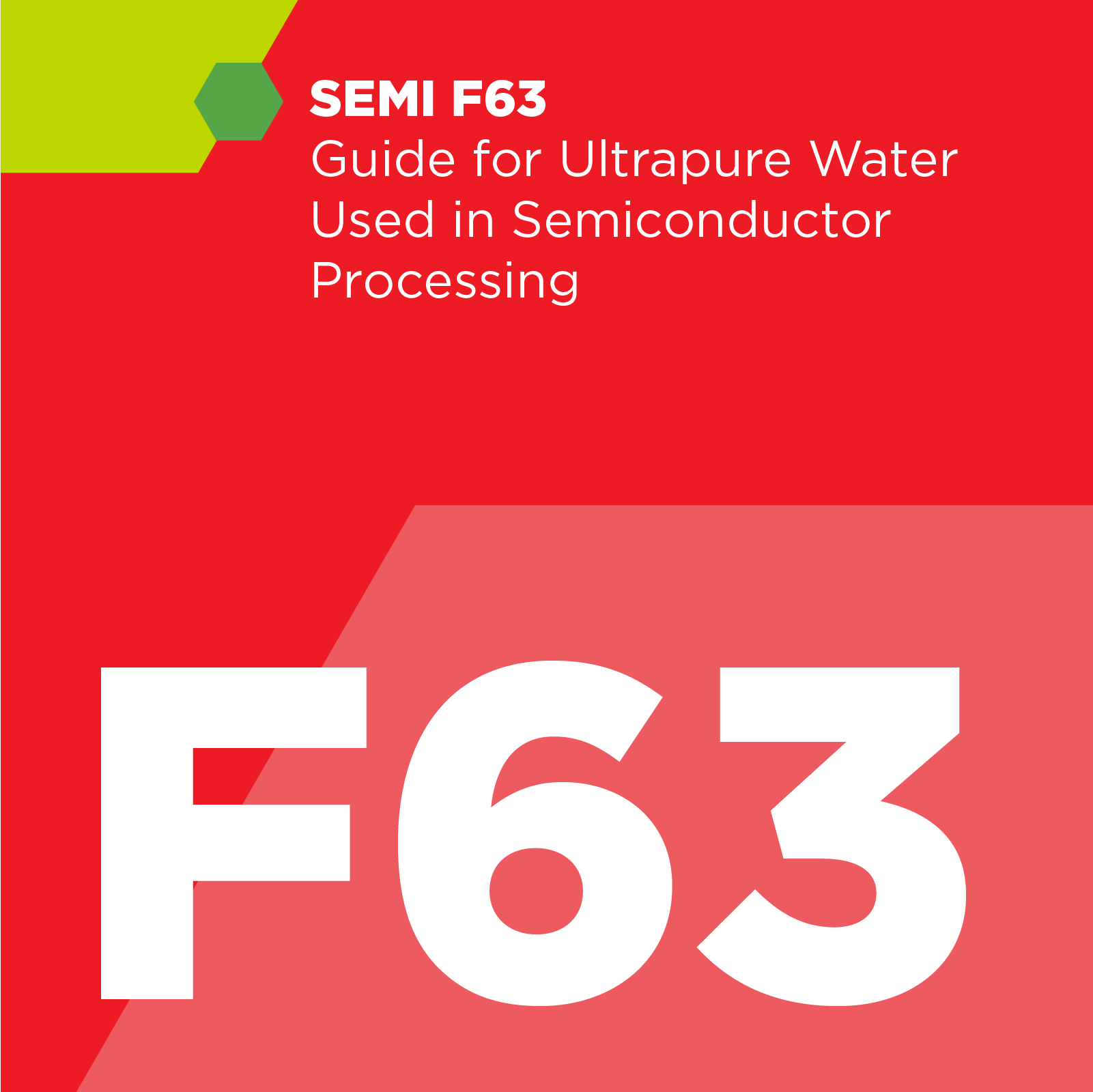 SEMI F63 - Guide for Ultrapure Water Used in Semiconductor Processing -
Abstract
This Guide may be used:
        

To establish performance criteria when purchasing ultrapure water (UPW) purification equipment.

        

To set the process control parameters for UPW-system operation.

        

To establish quality expectations for the supplied UPW.
These suggested guidelines are published as technical information and are intended for informational purposes only.
UPW is used extensively in the production of semiconductor devices for all wet-processing steps (including wafer rinsing). UPW purity is therefore critical to the manufacture of semiconductors. This Guide provides UPW quality parameters and background information for the decision-making process related to new or retrofit facilities that manufacture semiconductors with line widths of 32 nm and smaller.
The UPW scope also includes hot UPW (HUPW), when defining UPW quality criteria.
The goal of members of the International Roadmap for Devices and Systems (IRDS) UPW committee is to look years ahead on a continual basis to assess the semiconductor industry's future UPW technology requirements. In addition to IRDS input, the Liquid Chemicals Global Technical Committee contributed its knowledge of the feasibility and cost viability of the technical solutions required to support UPW quality values specified in this Guide.
The information in this Guide has been developed from the following sources:
    

IRDS risk assessment with input from facility- and manufacturing-experts and technology -providers in the semiconductor manufacturing industry.

       

The results of UPW testing at semiconductor manufacturing sites as measured by independent laboratories that test high purity water for the semiconductor industry.
-        Specifications from water-system equipment manufacturers.
Input from UPW producers and users at SEMI Standards Liquid Chemical Global Technical Committee meetings, and also through the balloting process.
Referenced SEMI Standards (purchase separately)
SEMI C1 — Guide for the Analysis of Liquid Chemicals
SEMI C10 — Guide for Determination of Method Detection Limits
SEMI C79 — Guide to Evaluate the Efficacy of Sub-15 nm Filters Used in Ultrapure Water (UPW) Distribution Systems
SEMI C93 — Guide for Determining the Quality of Ion Exchange Resin Used in Polish Applications of Ultrapure Water System
SEMI F61 — Guide for Design and Operation of a Semiconductor Ultrapure Water System
SEMI F75 — Guide for Quality Monitoring of Ultrapure Water Used in Semiconductor Manufacturing
Revision History
SEMI F63-0521 (technical revision)
SEMI F63-0918 (technical revision)
SEMI F63-1016 (technical revision)
SEMI F63-0213 (technical revision)
SEMI F63-0211 (technical revision)
SEMI F63-0309 (technical revision)
SEMI F63-0701 (first published)

Interested in purchasing additional SEMI Standards?

Consider SEMIViews, an online portal with access to over 1000 Standards.
Refund Policy: Due to the nature of our products, SEMI has a no refund/no exchange policy. Please make sure that you have reviewed your order prior to finalizing your purchase. All sales are final.