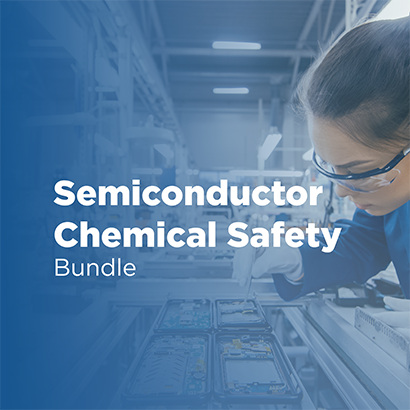 Semiconductor Chemical Safety Bundle
Course Description 
This Semiconductor Chemical Safety bundle consists of five courses: 
Semiconductor Chemical Safety Part 1a: Introduction to the GHS, Semiconductor Chemical Safety Part 1b: Communication, Controls and Emergency Procedures (US), Semiconductor Chemical Safety Part 2: Hazards, Controls, and Emergency Actions, Semiconductor Part 3: Extremely Hazardous Chemicals and Semiconductor Chemical Safety Part 4:: Hazardous Gases and Control Systems   
Workers in the semiconductor industry work around hazardous chemicals and gases every day. These courses will teach them about the Globally Harmonized System of Classification and Labelling of Chemicals (GHS) to use the chemicals safely.  Learners also learn how to store, use and dispose of hazardous chemicals and take steps during a hazardous chemical event. There are many chemicals that a person can be exposed to in a semiconductor fabrication facility.  Each chemical has specific characteristics, hazards, and safety measures. The learner will understand what these chemicals are and how to protect themselves in the event of an emergency. Hazardous gases can also be found in semiconductor fabrication facilities and are typically stored outside the manufacturing area and piped into the processing equipment. Releases of the gases could cause injury or death.  In the Hazardous Gases and Control Systems course, learners will learn how gases are used and their potential hazards.
Course Objectives 
Know what the Globally Harmonized System Classification and Labelling of Chemicals (GHS) includes.
Recognize the characteristics of hazardous materials.
Recall GHS classifications. 
Know what a Safety Data Sheet (SDS) is and label requirements according to the GHS Systems of Classification.
Know what controls and precautions to take when storing and using hazardous chemicals. 
Recall what to do when there is an emergency involving hazardous chemicals. 
Know disposal requirements and restrictions for hazardous chemicals.
Course Duration 
1.83 hours 
Target Audience 
Managers, engineers, and technicians working in the semiconductor field 
Requisite Knowledge: 
None