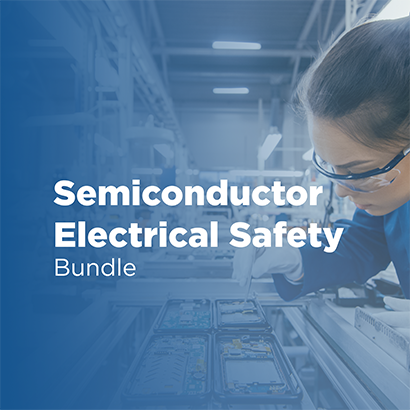 Semiconductor Electrical Safety Bundle
Course Description 
This Semiconductor Electrical Safety bundle consists of four courses.  They are Semiconductor Electrical Safety Part 1: Basics of Electrical Safety, Semiconductor Electrical Safety Part 2: Developing a Risk-Based Approach to Electrical Safety, Semiconductor Electrical Safety Part 3: Implementing Electrical Safety and Semiconductor Electrical Safety Part 4: Electrical Safety
We all know that electricity can be very dangerous.  When working around electricity is part of your job, ensuring you understand what you need to do to stay safe is important. These courses will provide the learn about characteristics of electricity and the electrical hazards and how to avoid them. In these courses, the learner will understand different electrical risk assessments and protective measures that may be implemented to prevent shock and electrocution.  A review of the lockout /tagout process and the importance of an energized electrical work permit will be presented. Learners will also learn how to write an electrical safety program and how the risk assessment results are used to create these programs and implement safe work practices.  
Course Objectives 
Recognize characteristics of electricity. 
Describe the relationship between current, voltage, and resistance as Ohm's Law expresses.
Define electrical hazards, including electrical shock and arc-flash.
Recognize electrical hazards and conditions to avoid.
Identify how NFPS 70E® applies to semiconductors fabrication facilities.
Select information that must be included in risk assessments.
Recognize steps required to establish electrically safe work conditions. 
Define "qualified person" responsibilities.
Define approach boundaries. 
Local electrical hazard information in NFPS 70E® tables and on equipment labels.
Define arc-flash risk assessment methods.
Recognize the steps in the lockout/tagout process.
Identify electrical safety program components.
Identify the required elements of an energized electrical work permit.
Know electrical safety responsibilities and training requirements.
Recall how to respond during an electrical emergency. 
Course Duration 
1.28 hours
Audience 
Managers, engineers, and technicians working in the semiconductor field 
Requisite Knowledge: 
None